Content Development: In-house or Outsource?
Are you looking to develop outstanding content? Here's why it pays to outsource to a publishing service company instead of using your internal staff.
When it comes to content development, it pays to outsource to a professional publishing service company. Keeping the project in-house may seem like a good idea—the prospect of sending your work to an outside firm can seem daunting at best, plus you can save money by doing it yourself, right?
Wrong.!
Chances are, you are going to spend more money with the time and resources it takes you to simply iron out those glitches than you would when you hire a professional. Plus, professional content development service providers have the knowledge, expertise, and resources you need to get your content noticed by the readers you are hoping to attract.
Who outsources and who stays in-house for their content development?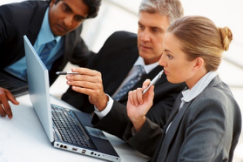 Statistically, more than half of the companies in your field are outsourcing all or at least a portion of their content production needs to professional publishing services and content development companies. In fact, 62 percent outsource their content marketing, and that includes outsourcing the development and promotional component. Why is that figure so high? Because outsourcing gets you access to a broader variety of niche experience, creating a higher ROI.
Of course, you only need to outsource the work you want outsourced. Statistically, 72 percent of large companies use a combination of in-house and outsourced content development for their marketing needs, and 33 percent of small companies do the same.
Are all outsourcing content developers freelancers?
No. There are plenty of freelance content writers out there, but Progressive Publishing Services (PPS) is different. We are an established and experienced firm dedicated to providing expertise in content development and publishing. With us, you are guaranteed to have experienced professionals managing each aspect of your project.
What are the benefits?
Outsourcing to Progressive Publishing Services gives your company access to a vast pool of content development and publishing resources, all under one roof, so you don't have to increase your budget to accommodate those added resources your company. In addition, outsourcing development provides access to the professionals who know how to get your book the attention it needs to increase your clientele base and increase sales. That means you are going to reach a much wider audience, and you are going to reach them successfully.
Professional content developers know how to turn your content into a positive client experience, and provide more success for you. To look into all the benefits outsourcing your content development will provide, contact Progressive Publishing Services today.
September 5, 2017
Posted in: